News
David Shrigley - Pulped Fiction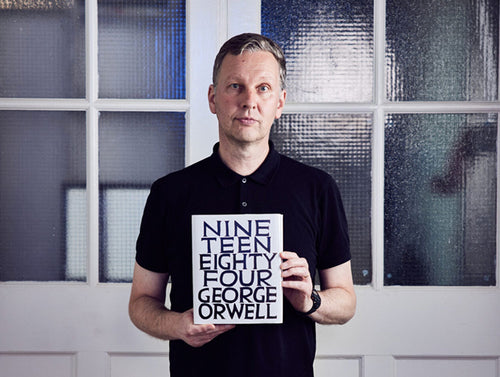 David Shrigley works with Jealous Print Studio to create newest project: 'Pulped Fiction'
A few months into 2023, our phone rang and who was on the other end of the line but David Shrigley himself, calling up with a wild and exciting project idea. Sometimes an idea takes a while to figure out, it needs to be mulled over, thought about. This time round, this idea was a no-brainer - we put the phone down with a swift yes and got on with it.
David Shrigley had been collecting unwanted and discarded copies of the famous Dan Brown novel 'The Da Vinci Code' since before lockdown. He didn't know exactly what he was going to do with them, until one day it struck him - it made perfect sense in that moment to pulp thousands of books down and reform them into a new book. The new book became Shrigley's version of the dystopian George Orwell novel '1984'.
And so the adventure began! Once the main novel was printed and complete, the Jealous studio staff jumped up from the chairs in which they were sitting and grabbed a pot of ink – the book's dust cover must be printed! Alongside the book, a small (book-sized) limited edition artwork was created in our studio to be included in each purchase.
Upon completion of the project, a book-launch was organised to go ahead in Swansea at an Oxfam famous for previously rejecting donations of Dan Brown's 'Da Vinci Code' due to being inundated with donations.
Alongside the project, there was a 30 minute documentary created.
Coverage from ITV is below. The project was covered by all major news outlets!
Purchase a copy of the book for yourself, directly from the artist, by clicking here!