News
John Merchant Gallery Present: JEFF KEEN: 100 YEARS OF DR GAZ
11 Nov 2023 — 23 Dec 2023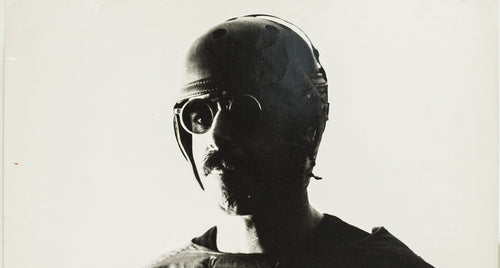 Sometimes we share news of exhibitions unrelated to Jealous - this is just one we'd like to go to!
John Marchant Gallery is proud to present '100 Years of Doctor Gaz' - a centenary celebration of the extraordinary vision of Brighton's own Jeff Keen (1923-2023).
Keen was relentless in his quest for creative satisfaction, often drawing friends and family into his practice, many of whom appear in various guises in film and photography through extended periods of his career. Keen's experiences during WWII also made him a confirmed pacifist. Much of his work carries explosive energy, though he himself moved with care. Keen also had a rare ability to draw as if tracing a line already marked by his mind on the paper, allowing an incredible level of energy and confidence to imbue his work across so many media. The exhibition will feature large format photographs and film stills, painting, intimate drawings and a rolling presentation of film from the renowned career of one of the UK's most exciting and pioneering artists.
This exhibition has been organised with the kind cooperation of Stella Keen.
JOHN MARCHANT GALLERY, 37 SHIP STREET, BRIGHTON BN1 1AB
WWW.JOHNMARCHANTGALLERY.COM