News
THE BIG ISSUE WRAPPING PAPER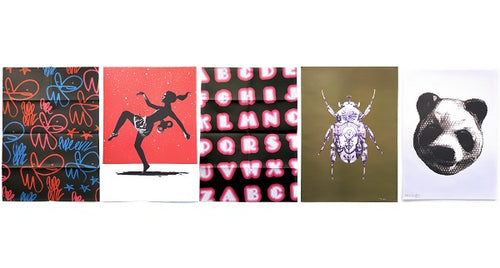 THE BIG ISSUE SHOP HAS CHRISTMAS ALL WRAPPED UP WITH EXCLUSIVE DESIGNER PAPER FROM LEADING ARTISTS, INCLUDING JEALOUS' OWN CHARMING BAKER, EELUS, BEN EINE, MAGNUS GJOEN, PURE EVIL, AND MANY MORE BRILLIANT ARTISTS.
The Big Issue Shop, specialises in products that put people and planet first and has launched this unique collection of wrapping papers in collaboration with Jealous and Art Republic.
There are 250 special, signed limited edition single-image sheets of each artist's design, priced at £39 each. You can also buy a pack of five sheets of regular wrapping paper for £7.99 to ensure your gifts look super-cool and exclusive under the tree.
Wrap up Christmas in style and create a social-echo at the same time by snapping up some exclusive wrapping paper, designed by a collection of renowned artists, including Ben Eine, Charming Baker and Eelus from the online shop.