News
Stanley Donwood & Thom Yorke Open New Exhibition
10 Jul 2023 — 06 Sep 2023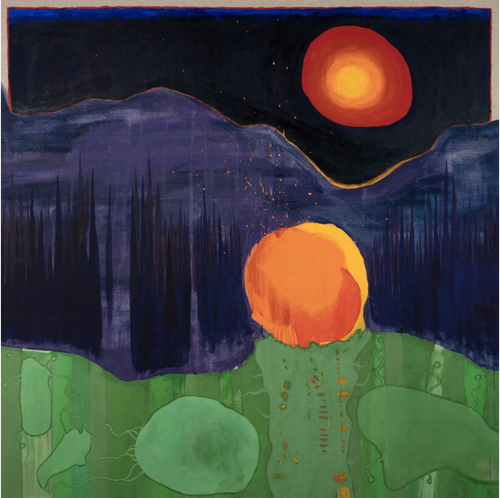 The pair present an new exhibition: 'The Crow Flies'
'I see narrative happening in different kinds of ways. You make associations because you need to make associations. You will make that the link.'
TIN MAN ART is proud to present 'The Crow Flies' - a series of new paintings co-created by Thom Yorke and Stanley Donwood, which began as cover artwork for A Light for Attracting Attention (2022), the debut album from Yorke's rock band The Smile. The wider series will be presented alongside a Flemish woven tapestry commissioned by the artists in London to celebrate the album's one-year anniversary.
This exhibition marks a significant moment in a 30-year artistic partnership for Yorke (b. 1968) and Donwood (b. 1968), who worked on it together in Oxford and Brighton between 2021 and 2023. It takes its name from Ted Hughes' poem 'Crow' (1966-69), from which the band name The Smile is also derived, and draws inspiration from the Bodleian Libraries' collection of Islamic pirate maps and 1960s US military topographic charts. The works comprise a mixture of gouache, tempera and powdered mushroom on canvas and feature an extensive language of signs and symbols developed by the artists and codified via supporting imagery.
The exhibition will run between 6th - 10th September. Click here to find out more!
Jealous has previously worked with the pair when we produced our 2022 Print and The Poem, 'Target Land, Nothing'. The artwork is a screenprinted print and poem presented in a bespoke album sleeve and custom box. Click here to find it!