News
Stanley Donwood - The Uncanny Scenery of a Dream
17 May 2022 — 07 Jun 2022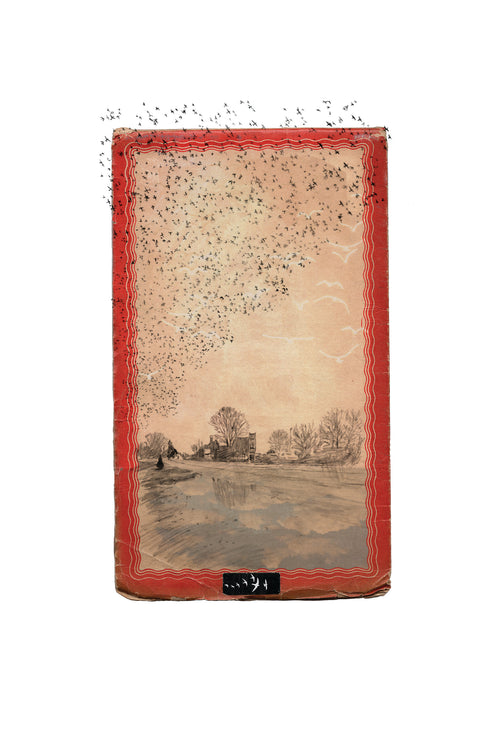 Jealous are pleased to share 'The Uncanny Scenery of a Dream': Exhibition at Durlston by Stanley Donwood
From the 17 May – 7 June, Durlston Castle's Fine Foundation Gallery hosted a very special exhibition of the unique work of award-winning artist Stanley Donwood, celebrating Thomas Hardy's poetry and the Dorset landscape.
Stanley explored Hardy's Wessex, creating sketches and images on pages from old books, envelopes and maps, responding to Hardy's layering of the present and past and the birds which link Hardy's world and ours. Navigating the surrounding countryside using his annotated copy of Hardy's poems, an AA road map and his iPhone, sketching and smudging with a soft 2B pencil, Stanley has depicted his own journey through Dorset, tracing some of the scenes which inspired Hardy's work.
His work forms the basis of a new collection of Hardy's poems, selected by writer Robert Macfarlane and published by The Folio Society, who along with Wessex Museums and Jealous Gallery have worked with Durlston to create this exhibition, which features a special introduction by Robert.
Stanley has worked with Radiohead since 1994 and his evocative and haunting imagery has created their distinctive visual identity. He has also created the official artwork for Glastonbury Festival.
Said Stanley: "I have tried to encapsulate the vague air of solitary melancholy I get from Hardy's work and from this, evoke a modern-pastoral-bucolic-ringroad-ethereal-rural-nostalgic-traffic jam Dorset."
Said Harriet Still, Thomas Hardy Curator at Wessex Museums, "I am fascinated by Stanley's interpretation of these timeless poems and his exploration of the Dorset landscape. Hardy visited Durlston on several occasions, so it is the perfect setting for what should be a wonderful exhibition and perfectly complements the wider Wessex Museums' Hardy's Wessex exhibition which opens on 28 May!"
The exhibition was open every day from the 17th May – 7th June between 10.30 and 5 and included prints for sale. The Wessex Museums' Hardy's Wessex exhibition was on display at Dorset Museum, Poole Museum, The Salisbury Museum and Wiltshire Museum from 28th May to 30th October 2022.
For more information on upcoming exhibitions and events, visit the Durlston website at www.durlston.co.uk