News
Stanley Donwood at Nuart Festival
08 Jun 2023 — 11 Jun 2023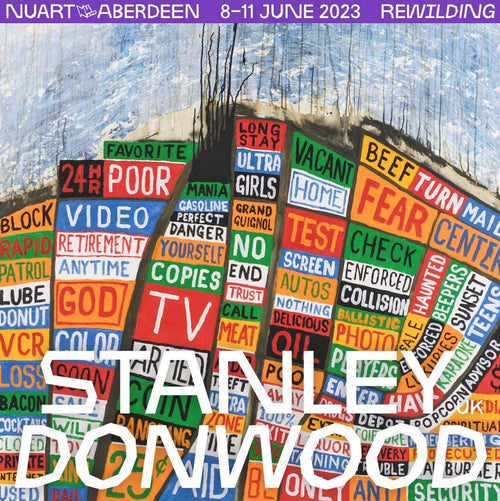 Jealous artist Stanley Donwood features in Nuart Festival
Nuart Aberdeen is an the award-winning and internationally renowned street art festival, returning to the walls of the Aberdeen from 8 -11th June 2023.
The theme for this year's festival is 'Rewilding' and will see 13 globally acclaimed street artists will visit Aberdeen to create new artwork in the city, ranging from large murals to smaller, more intricate installations.
This year Stanley Donwood has been chosen as one of the 13 artworks, and his piece 'Trespass' has been pasted up in the city (photographs below).
See the full artist line-up here and view the map locations here.
Nuart Festival is an international contemporary street art festival held annually in Stavanger, Norway since 2001. It is widely considered one the world's leading celebrations of Street Art and is the foundational stone on which Nuart Aberdeen, Nuart Gallery, Nuart Projects and various other Nuart offshoots stand.
Nuart Festival provides an annual platform for national and international artists who operate outside of the traditional art establishment. From the first week of September an invited international team of street artists leave their mark on the city's walls, both indoor and out, creating one of Europe's most dynamic and constantly evolving public art events. The event aims to stimulate debate by challenging entrenched notions of what art is, and more importantly, what it can be.