News
SOHO HOME EDITIONS 2020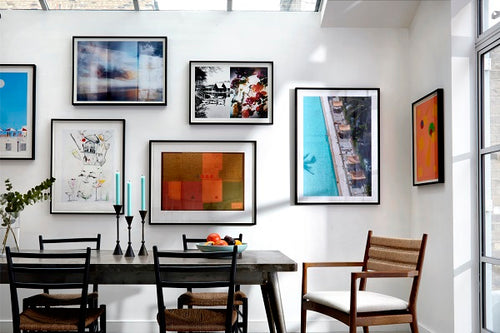 JEALOUS WERE WORKING AWAY BEHIND THE SCENES FOR THE SECOND INSTALMENT OF THE COLLABORATIVE PROJECT WITH SOHO HOME EDITIONS!
In 2020, to celebrate 25 years of Soho House, the editions were inspired by each artist's favourite house. The portfolio of new editions printed by Jealous Print Studio and curated by Kate Bryan, included prints by the incredible talents of Julie Verhoeven, Sue Webster, Karin Apollonia Müller, Bernat Daviu, Stephanie Sin, Rose Blake, George Byrne and Danny Augustine.
You can read more about the collection and purchase works from the portfolio on the Soho Home website or via this link.
Julie Verhoeven 's work is dedicated to Little House Mayfair. Her practice moves between art, fashion and design; her work has a punk-like cartoonish quality to it. With a strong sense of colour and texture, she creates energy, humour and pungency
Sue Webster's work is dedicated to Shoreditch House. She is an artist whose work is deeply influenced by her role as an astute observer within society. As someone who has experienced punk and the YBA scene through to current trends and cultures, her work is infused with a sense of dynamism and zest for life.
Karin Apollonia Muller's work is dedicated to Little Beach House Malibu. Karen is known for her hazy streets and solitary figures in natural landscapes, portraying disconnectedness is Müller's hallmark. In this work, the lone figure is absent but due to the inclusion of the reflection of glass, we the viewer become the solitary figure looking out at the seascape.
Bernat Daviu's work is dedicated to Soho House Barcelona and his practice encompasses painting, costume-design, performance and video. He explores affinities and paradoxes that oscillate between the absurd, the ironic and the romantic.
Stephanie Sin's work is dedicated to Soho House Hong Kong. Her artwork explores contemporary aesthetics, finding images on the internet, which she then alters and manipulates. Her practice focuses on architectural appendages, with layers of colour highlighting particular features.
Rose Blake's work is dedicated to The Ned, she is both an artist and an illustrator. Her works start with a literal representation of a space, which she then infuses with her own unique blend of humour, charm and playfulness.
George Byrne's work is dedicated to Soho Beach House. The artist masterfully blends together colour, shadow, shape and texture, finding the perfect balance between them. Within his depiction of everyday surfaces and landscapes, he achieves a painterly abstraction.
Danny Augustine's work is dedicated to Soho Farmhouse. By marrying together the mediums of paint, photography and drawing, Danny creates an original style of work that is distinctively his own. At the same time, he explores the role that desire, lust and sexuality play within modern society.