News
Samsom Kambulu Wins Design for Fourth Plinth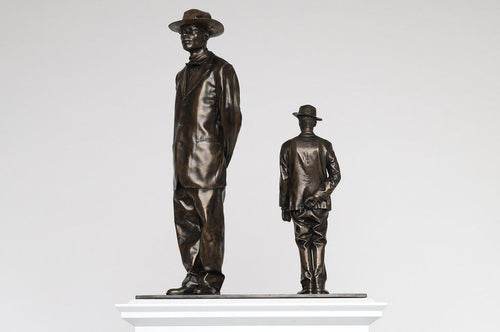 Jealous Artist Samson Kambulu Wins Bid for Fourth Plinth
Samson Kambulu, whose design has been chosen for Trafalgar Square's Fourth Plinth has said it is a "litmus test" for how much he belongs to British society.
Malawi-born Samson Kambalu's sculpture Antelope, depicts a 1914 photograph of Baptist preacher John Chilembwe and European missionary John Chorley.
It has been chosen alongside Teresa Margolles's sculpture which features casts of the faces of 850 trans people.
They will go on display in 2022 and 2024 respectively.
Mr Kambalu said the original picture his artwork was based on "looks ordinary. But when you research the photograph, you find that actually there's subversion there, because at that time in 1914 it was forbidden for Africans to wear hats before white people,"
In his design, Chilembwe is larger than life while Chorley is life-size. The judges said by increasing his scale, the artist elevated Chilembwe and his story, revealing the hidden narratives of underrepresented people in the history of the British Empire in Africa and beyond.
Find the full article on the BBC website by clicking here.
You can shop Samson Kambulu's prints here at Jealous, find the artworks below!
CLICK THE IMAGE ABOVE TO BUY!