News
Press for Miss Bugs | Do No Harm - The Dispensary
12 Aug 2022 — 04 Sep 2022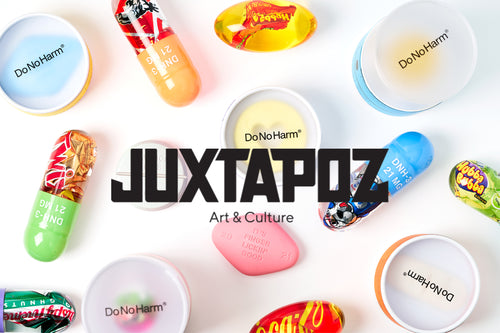 JUXTAPOZ INTERVIEW WITH MISS BUGS ON DO NO HARM - THE DISPENSARY
We were delighted that the highly anticipated upcoming Miss Bugs' exhibition 'Do No Harm - The Dispensary' was featured in Juxtapoz Magazine, including an interview with the artist. For an insight into the artist's process and some juicy details, head over to their website to read the full article.
"A show that looks at Big Pharma, fast food and just the urges of modern life, Bugs has created 6,000 supersized capsules and tablets that will be spewing from sentient vending machines. As much as the show looks at the power of advertising in our world of addiction, it's also a comment about how the art world creates a craving for itself, a modern look at how we consume objects and art as much as we are corporate consumers."
The exhibition was also featured by London On The Inside, Arts Supplier, Mutual Art and The Organ. See below for snippets from these articles.
Showcasing the best galleries, restaurants and activities in London, we were flattered to be featured in London on the Inside's 'What's On' page, click here to read the full article.
Contemporary Arts news page Arts Supplier also featured the exhibition, click here to read more.
Your insider source for the art market Mutual Art also wrote about the exhibition. Click here to read more.
We've also been featured on The Organ,
click here
to read the article.
Miss Bugs' Do No Harm - The Dispensary ran from 11th August - 4th September 2022 at Jealous East. For more information on the exhibition, please visit the page on our website.