News
Philip Reeves curates exhibition
29 Apr 2023 — 07 May 2023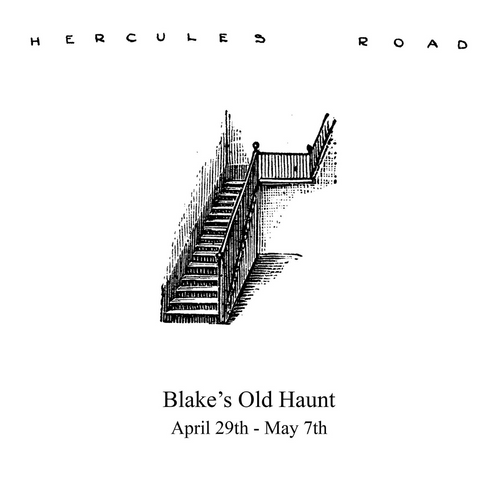 Jealous artist Philip Reeves has co-curated new exhibition 'Blake's Old Haunt'
Alongside fellow curator, Holly Birtles, Philip Reeves has co-curated 'Blake's Old Haunt', an exhibition examining William Blake through the contemporary artist's lens.
About
'Blake's Old Haunt' refers to the house where William and his wife Catherine resided in the 1790's, whilst also implying that he was haunted by spirits or perhaps his own imagination which Blake was so strongly absorbed by. Some of Blake's influential phantasms appeared in this abode, informing infamous paintings such as 'Ancient of Days' and 'The Ghost of a Flea.' 'The Ghost of Flea,' (1819–20) was completed long after the Hercules Road hauntings. The vision of the grotesque and scaly amalgamation of flea and man who held a cup of blood lingered in Blake's imagination decades after the visitation in 1790.
'Blake's Old Haunt' in part seeks to examine Blake through a contemporary perspective. The exhibition encompasses a diverse range of Blake inspired works, which reveal themes on the notion of haunting and the embodiment of sublime internal dialogues through an eclectic array of media. In the exhibition, artists Holly Birtles, Charly Blackburn, Luca George, Ben Jamie, Helen Knowles, Mark Leckey, Oliver McConnie and rechonski investigate these visions through reconstructed narratives, constructed performance, prop production, print making, costume, AI-generated entities and alternative ceramic firing processes.
The Exhibition will feature a multitude of works spanning film, performance, photography, ceramics and printmaking. Works will explore Blakes time in Hercules Road (1790-1800) – either something from the location, Blake's works at the time, writings, art works e.g., The Ghost of a Flea, or thoughts on the hauntings, spirituality and mysticism in the Georgian era. The artists may engage with Blake's world and bring his ideas up to date or reinterpret the term 'haunting', but the premise of this exhibition will have its origins inspired by the Blakes' time in Hercules Road.
The artists are inviting short performances, readings, seances, apparitions, ghosts: perhaps even a haunting by Blake himself. These would take place in the gallery space alongside the work of the 8 exhibited artists.
The artists exhibiting at Hercules Road are:
Charly Blackburn – Ceramics
Ben Jamie – Painting
Helen Knowles – Performance
rechonski – Sculpture
Luca George – Performance
Oliver McConnie – Prints
Mark Leckey – Video
Holly Birtles – Photography
Exhibition Dates:
Saturday 29th April – 12–6 PM, PRIVATE VIEW – 6–9 PM
Sunday 30th April – 12–6 PM
By appointment: Monday May 1st to Friday May 5th
Saturday 6th May – 12–6 PM
Sunday 7th May – 12–6 PM (B.S.S 6-9 PM)
More info on Instagram at @hercules_road_