News
Lucie Flynn & Ben Eine Collaborate at 1 Mare Street
14 Jul 2023 — 22 Jul 2023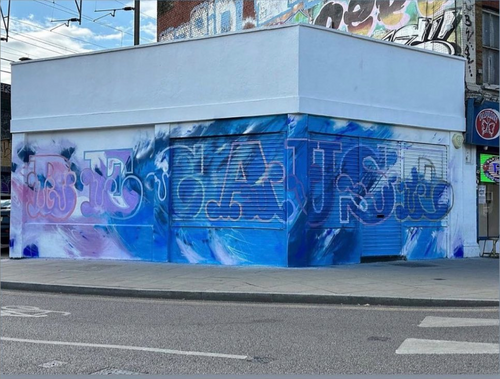 The pair collaborate on show titled: 'ENTWINED'
A fresh new gallery space has sprung up in East, and it's called 1 Mare Street. The gallery has already had a number of shows in the short time they have been open. Jealous artists Lucie Flynn, Ben Eine and Dave Buonaguidi have all graced their walls so far.
But today, we're here to promote Lucie Flynn & Ben Eine, who collaborated on the exhibition 'ENTWINED'. With Lucie Flynn's ethereally groovy abstract backgrounds and Ben Eine's instantly recognisable stencilled circus letters, the show sure packed a punch. The pair also collaborated on a mural which covers the entire outside of the new gallery, shutters and all. it really fits in with the Shoreditch Streetart scene we've all come to know and love. Why did they spray the outside of the gallery? Just because we guess.
Find Ben Eine and Lucie Flynn's works via Jealous by clicking the links!
Want to visit the gallery after dropping into Jealous? Jealous favourite Dave Buonaguidi is currently taking up the place with his exhibition 'HERE & NOW', which opened on 3rd August 2023.