News
JEALOUS PRIZE WINNER, PHILLIP REEVES AT CABARET VOLTAIRE!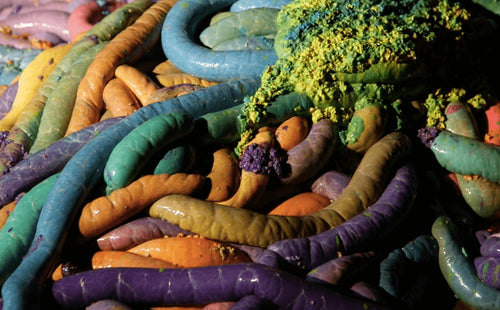 AS PART OF THE FUN & FURY SEASON AT THE CABARET VOLTAIRE, RECENT GRADUATE OF THE GOLDSMITHS MFA PROGRAMME (2015 - 2018) AND JEALOUS PRIZE WINNER, PHILLIP REEVES WILL BE PERFORMING AT THE BIRTHPLACE OF DADA! THE ZURICH PERFORMANCE OF 'SAUSAGES' IS ON TUESDAY 12TH FEBRUARY FROM 20:00–23:00 AND IS NOT TO BE MISSED!
'Sausages' uses exaggeration of both body parts and costume, aiming to examine grandiose delusions of antiquated hierarchies within the labour force.
The audience is invited to witness a tense culinary spectacle, of multicoloured, floppy, phallic, intestinal edifices. Presented to the viewer is the ongoing and faltering performance of a chef who manually operates a sausage-stuffing machine, creating residual entrails of the performance across the stage. Sausages are festooned overhead and from the walls like strange, horrific bunting and widely distributed across the stage.
The character 'Big Chef', clumsily operates the machine with overly exaggerated appendages, wearing a comically tall hat to signify antiquated workplace hierarchies and the supposed mastering of his task and dominance of machine. 'Little Chef', relentlessly works to supply the machine with new material, buckets after buckets of meat, fueling the factory as the spoils of war are ceremoniously dumped on the floor.
There is an element of theatre in the used props such as the costume of a blue inflatable dress that relates absent body forms, hinting at voids and departure, as well as the deliberate distortion of the hands, creating a sense of slapstick calamity. Operating the machine is intensified in its physical undertaking, made awkward with an interplay between a sense of miss-control and dexterity, at times referencing the 'human-space-machine' era of Bauhausian years.