News
Goodbye Crouch Enders!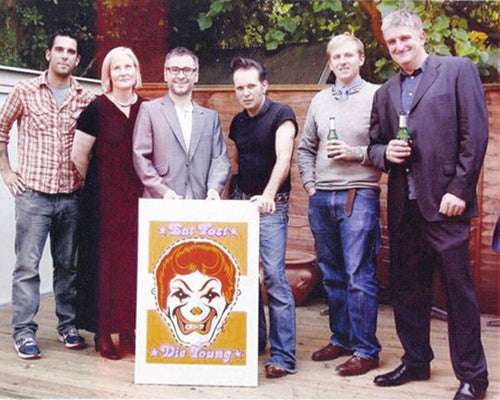 The doors of our Crouch End Gallery closed for the final time this month so we took a trip down memory lane for throwback to the last 15 years of Jealous North.
15 years ago, neighbours Dario Illari and Matthew Rich first opened the doors of their screenprint studio and gallery in their local area of Crouch End, and Jealous was born. Formally the 'Richard England Carpets' store, situated between a café and a clothes shop, their premises were just big enough to build a small gallery at the front and an even smaller single-bed screenprint studio at the back.
To get the work flooding in, Dario and Matthew made their own prints and approached a few artists they thought might be interested in making editions for the gallery. The very first artists were James Flames, who came over from the US especially for the opening party and Eddie King, who has designed record sleeves for The Clash.
Exhibition Prep with Jess Wilson for Jealous Needs You, 2011
After releasing some (now classic) prints from artists like Charming Baker, Angie Lewin, Jayoon Choi, and Ashes 57, Jealous firmly established itself in the London art world with a strong commitment to showcasing artistic talent and passion for printmaking.
We want to give a big shoutout and say a massive thank you to all the amazing artists and collectors who have been with us since day one in Crouch End. Your love for art has kept us going strong, and we can't thank you enough for that.
We don't want to lose touch, so please drop by and visit us at Jealous East. You can also catch us at various art fairs, and who knows, we might even do the odd pop-up in North London every now and then!
Don't worry, this isn't the end, it's just the beginning of something even more awesome. So once again, a heartfelt thank you for being a part of our journey!