News
Fran Giffard's Solo Exhibition 'Little Kings' at Northcote Gallery
10 Sep 2022 — 24 Sep 2022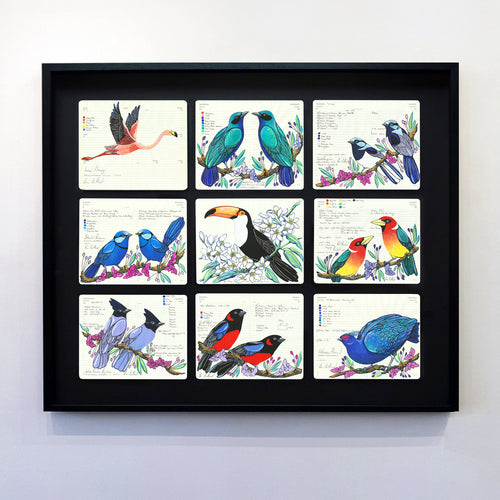 Jealous Artist Fran Giffard had a Solo Exhibition 'Little Kings' at Northcote Gallery.
We were excited to announce news of Fran Giffard's solo show 'Little Kings' at Northcote Gallery! See below for more information.
Fran Giffard has long been captivated by the intricate beauty of natural illustrations and has amassed an incredible body of ornithology-inspired artwork. Fran started to work directly onto her personal Moleskine diaries using aquarelle, gouache and graphite pencil, capturing the wonder of exotic and more commonplace birds. The result is a vivid collection of work with an intriguing personal slant.
The exhibition showed a framed collection of nine paintings of birds using watercolour and gouache over the artist's personal moleskine diary.
Click here to find Fran's works via the Northcote Gallery website. You can also find a number of Fran's prints via the Jealous website by clicking here.
Solo exhibition by Fran Giffard at Northcote Gallery, 110 Northcote Rd, London, SW11 6QP
Open: 10th - 24th September. Private View: 17th of September from 12-4pm. Please come!