News
Babington House Art Fayre
09 Sep 2023 — 10 Sep 2023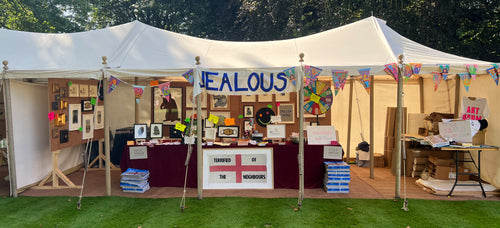 The weekend Jealous went to Babington House
One sunny, hazy morning in early September, the Jealous team packed their suitcases - sitting on the bags to close the zips - and trundled their way down to Somerset for the Babington Art Fayre.
Little did they know the delights they would find upon the medieval-tented croquet lawn of Babington House. Celebrating the 25-year anniversary of the opening of Babington House (a country retreat opened by the creators of Soho House), Jealous collaborated with the art team there to curate the first-ever Soho House art fair - and it did not disappoint. Hosting a fayre stand, tombola and raffle, we really took the country fair theme to the max.
Exhibiting artists included: Jessica Albarn, Danny Augustine, Charming Baker, Venetia Berry, Adam Bridgland, Morag Caister, Lindsey Mendick for Quench Gallery, Gommie, Lucy Gough, Josip Grgić, Curtis Holder, Eliza Hopewell, Sarah Maple, Polly Ruffman, Gina Soden, Lucy Sparrow, Amy Stephens, and Theo Vass.
Printed in the Jealous Print studio, David Shrigley's newest screenprinted edition 'The Dam Will Not Build Itself' was also exclusively released at the art fair. A beaver for Babington - who'd have thought?!
Jealous artist Adam Bridgland also hosted his very own sceenprinting workshop for Soho Visionaries, 'powered by Porsche' in the Babington House Log Room which was incredibly well-received! Jealous legend Jess Wilson was also invited to exhibit her epic Signpost piece on the lawn of Babington, which added a certain Jealous spin to the event. Jess also designed the back-drop to the stage where talks and interviews took place (see below).