News
ANN-MARIE JAMES: ALCHEMY
24 May 2019 — 26 Aug 2019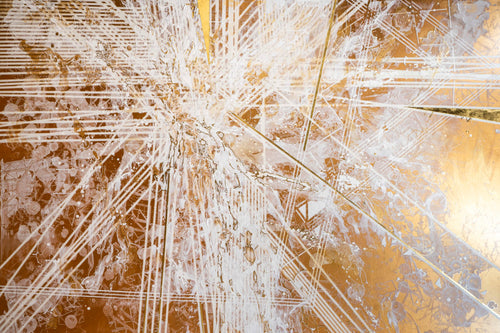 ALCHEMY IS AN EXHIBITION OF BEAUTIFUL CONTEMPORARY ARTWORKS BY ANN-MARIE JAMES.
Wessex museums invites Ann-Marie James to delve into the collection of their four partner museums (Wiltshire Museum, Dorset County Museum, Poole Museum and the Salisbury Museum) and choose an object from each to inspire a series of artworks. She spent a year creating the finished pieces, all in gold or white. Gold derives from the Bush Barrow Lozenge (Wiltshire Museum) and the tale of Bacchus and Midas (Poole Museum); white from the chalk that the Amesbury Archer (The Salisbury Museum) was originally found in, and the white of the Roman Mosaic (Dorset County Museum). Her techniques included drawing, painting, printmaking and gilding with 24ct gold leaf.
Ann-Marie James says of her new body of work:
'In my practice I explore two main themes. One is the the idea of change, of metamorphoses, of one thing turning into another. Change is a constant, and I am interested in the connectedness of all things, in a cultural conversation that stretches right back to antiquity, and to ancient Greek and Roman myth in particular.
The other is the idea of a connection, or dialogue, with art history and antiquity via the use of found imagery and texts. I am interested in using the found to investigate my own responses to individual historical works, to the artists that made them, and to their themes and origins. Primarily I make paintings, drawings, collage and I work with various forms of printmaking. During my residency with the Wessex Museums Partnership I have produced 4 series of works, each based upon an artefact from the collections of each of the 4 museums:
The Bush Barrow Lozenge from Wiltshire Museum, Arrowheads belonging to the Amesbury Archer, from Salisbury Museum, Roman Glass Head from Poole Museum, Roman Mosaic from Dorset County Museum'.
Ann-Marie James lives and works in Suffolk. She makes paintings, drawings and collage, and works with various forms of printmaking.
In her practice, Ann-Marie takes her starting point for a body of work from visual history – from Bernini sculptures, to Dürer's clouds, or Hokusai's wave. Identifying a detail or several details – the twists in a body, the curves in a cloth, the tonality in a cloud – she begins by using repetition, working and reworking the this detail into delicate abstraction with silk-screen and then builds complex, layered compositions, responding directly to the original image.
Ann-Marie's James' work is held in the collections of the British Museum, London; the British School at Rome, Italy; Chelsea College of Art and Design, University of the Arts, London; the Victoria and Albert Museum, London, and the John Jones Collection, London. She has undertaken art residencies in Italy, Japan and the USA.
This exhibition has been generously supported by Ridinghouse/Karsten Schubert.
The exhibition runs from 24th May at Wiltshire Museum until 26 August, after which it will travel to:
The Salisbury Museum, 21 September 2019 - 4 January 2019
Poole Museum, 1 February - 19 April 2020
Dorset Museum, September 2020