News
Alma Singer - A For Effort
10 Jun 2023 — 06 Aug 2023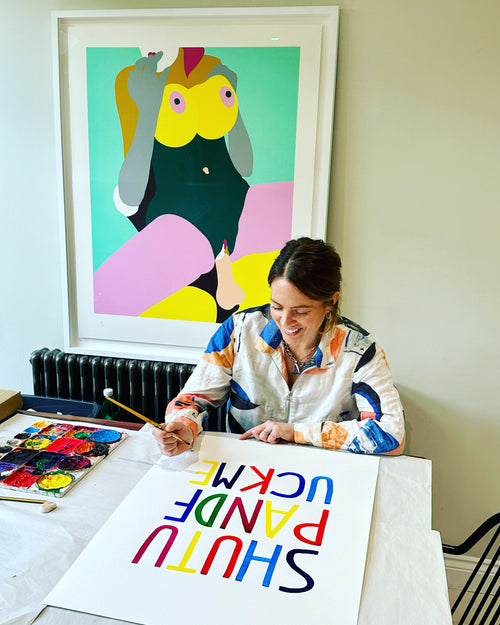 An exhibition at Extraordinary Objects exploring value, art, identity and sexuality; welcome to the world of Alma Singer.
New-to-Jealous artist Alma Singer has her first solo show coming up at Extraordinary Objects. We can't wait to see all of her work in one place and really! View the full article below on Alma's website by clicking here.
'A For Effort' is the first solo show from Alma Singer, opening at Extraordinary Objects on 10 June 2023. The exhibition is a humorous and personal exploration of the world of Alma Singer, the pseudonym of gallerist Carla Nizzola, and explores issues around value, art, identity, and female sexuality.
The title 'A For Effort' refers to comments on Nizzola's school reports for art class. Nizzola went on to study fine art at Lancaster University and spent a few years in her early twenties making self-proclaimed 'pretentious paintings that no-one, except my parents, wanted', before putting the idea of being an artist to one side to pursue a career as a gallerist. It wasn't until 15 years later that Carla was inspired to start making art again.
"Working under a pseudonym has given me the confidence to show my work and overcome my insecurities a little. Being a thirty-six-year-old woman who makes badly drawn stick figures that are quite personal I thought I'd be laughed at for considering myself an artist. As Carla I'm a bit shy and insecure, but Alma Singer is the little part of me that couldn't care less what people think."

"It took me until my mid-thirties to stop trying to make what I thought I ought to make, and just start making whatever I wanted. Turns out I want to make silly drawings of stick women, and I'm ok with that. As a young woman I was paralysed by a fear of not being taken seriously. Now, thankfully, even I don't take myself seriously."
— ALMA SINGER
'A For Effort' by Alma singer opens 10th June - 6th August 2023 at Extraordinary Objects
Private View Friday 9th June 6-8pm