News
100 Prints by Sophie Smallhorn
20 Sep 2022 — 25 Sep 2022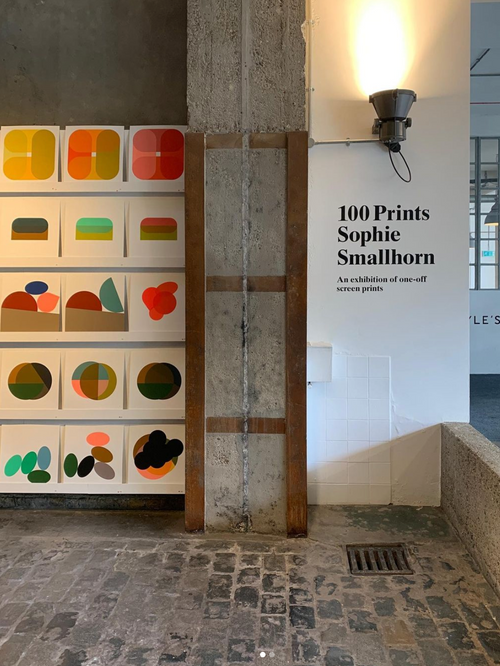 100 Prints by Sophie Smallhorn
As part of this year's London Design Festival (and Shoreditch Design Triangle), Sophie Smallhorn took over the Tea Building, housing 100 of her prints.
Famed for her use of colour and shapes, Smallhorn's exhibition was a sea of pattern, brightening up the cold industrial interior of the building. It was no surprise that within just a few days of being open, the exhibition had almost sold out. Each print was marked at £300 and screen printed by hand.
The works explored the relationships between colour, volume and proportion.
Click here to find out more about the exhibition!
Sophie's work explores the relationships between colour, volume and proportion across prints, sculpture and site specific installations. Sophie's kaleidoscopic odyssey began at the University of Brighton, where she studied Furniture and Ceramics. While making furniture she became interested in the colourful off-cuts, experimented with wall-mounted sculpture and the rest, as they say, is history. Exhibited and published internationally, her work has also featured in several Royal Academy Summer Shows.
Sophie's reputation as a colour consultant led to her involvement in the London 2012 Olympics, when she developed a colour palette for the stadium. It was a vast undertaking and she continues to work on larger-scale public commissions – so where does printmaking fit in? Compared to public art and wall sculptures, screenprinting offers a degree of creative freedom. She often works alongside friend and fellow Look Up artist Kate Gibb, and while their work couldn't be more different, they share a sense of adventure, exploring the creative potential of print, revealing new ideas and happy accidents.